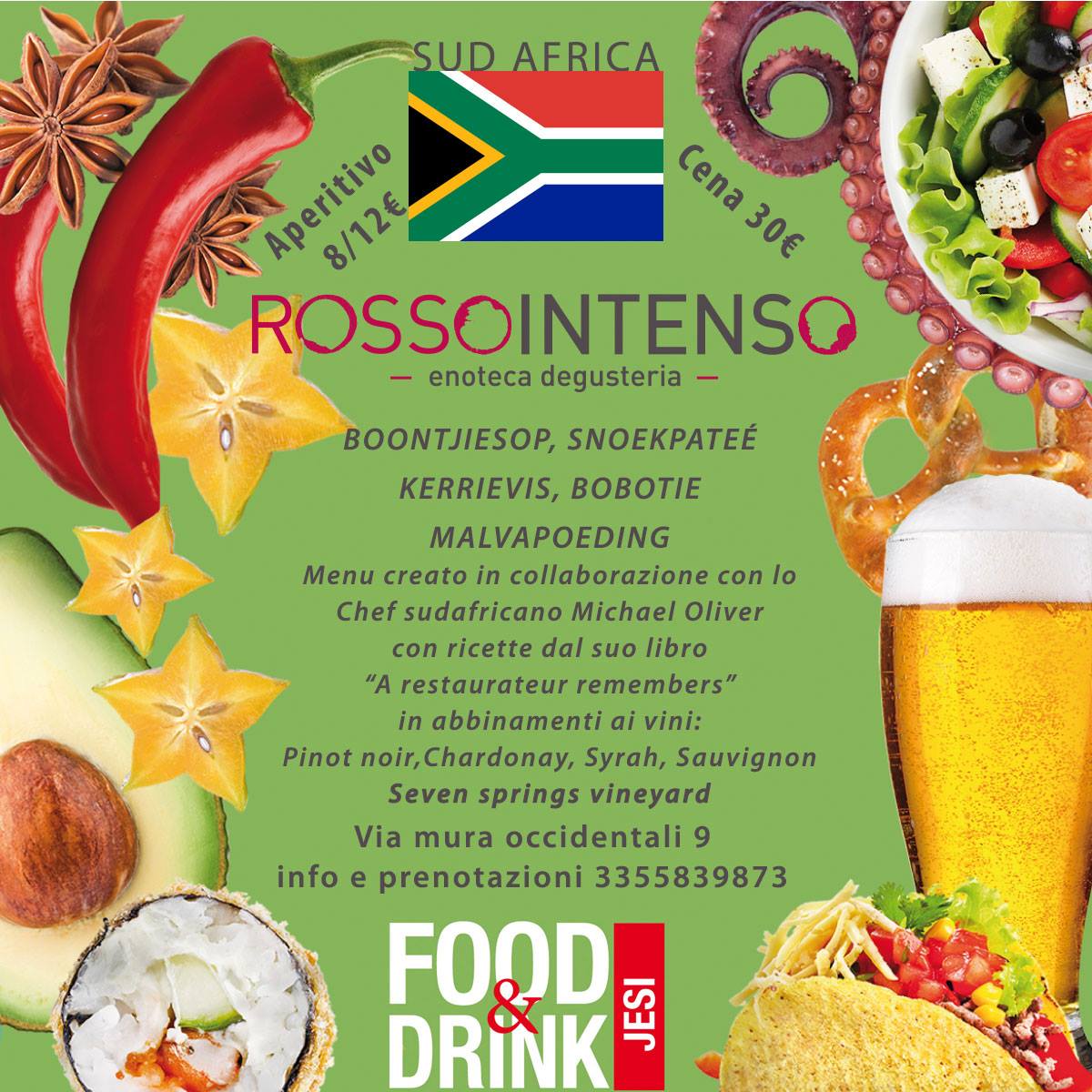 Aperitivi e cene internazionali da Rossointenso!
10/11/12 novembre.
Quest'anno con la collaborazione della cantina del Seven Springs Vineyard e dello ristoratore Chef Michael Olivier abbiamo creato un menù con i piatti tipici della cultura abbinati ai vini sudafricani per regalarvi la migliore esperienza gustativa!
La formula è la solita.
Scelta tra aperitivo al costo di 7-12€ oppure cena a 30€
Menu completo
Le citazioni e le ricette sono dello Chef Michael Olivier
To start
SNOEKPATEÉ
"Snoek is a very traditional fish in the Cape. It is a firm fish which is served in many different ways"
BOONTJIESOP
"This soup could originally have been brought to the Cape by settlers from Holland for whom the early Malay settlers cooked in their homes."
Main course
KERRIEVIS
"Few Cape homes would not have their own recipe for "kerrievis" as pickling was a popular way of preserving fish in the days before refrigerators"
BOBOTIE
"This is probably the most widely known and loved of all Cape dishes. It has its origins at the Cape in the 17th century when Malay slaves, who were brought to the Cape by the Dutch Settlers, introduced their unique style of cooking, infused with the spices of the East"
Dessert
MALVAPOEDING
"I can happily claim responsibility for the resurgence and subsequent popularity of Malva Pudding. "
Dalla cantina Seven Springs Vineyard abbiamo selezionato Chardonnay, Sauvignon, Syrah e Pinot nero.
Prenotazioni al 3355839873